Oracle EBS R12.2 Architecture
Also referred to as Oracle Enterprise Resource Planning (ERP), Oracle Apps, Oracle Applications, or Oracle Financials (thanks to its background in financial software, Oracle E-Business Suite (EBS) has certainly made a name for itself and is now positioned as the go-to solution for business applications at an enterprise level.
While Oracle EBS predecessors date back to the 1980s, fast forward to 2013 when Oracle announced its continuous innovation release for EBS, marking release 12.2.x as the latest major release that organizations would ever have to make, and as such, shaking things up in the industry for good.
But, what makes release 12.2.x so special? While many Oracle EBS clients below R12.2 argue their EBS instance works "just fine," the reality is they can't fully harness the innovations that Oracle introduced and continues to add to its latest release. In addition, clients can't maximize their hefty Oracle EBS investment since they're not taking advantage of the fixes, patches, and updates Oracle has pledged to make under the Premier Support umbrella, through at least 2033 (with clear signs this date will continue to be extended on a yearly basis).
Oracle EBS R12.2 architecture is structured as follows:
The database layer
The application server layer
The development tools layer
The application layer (business app modules)
Once release 12.2 superseded 12.1, there were major functional changes, which included a full overhaul of the technology stack. In R12.2, Oracle EBS moved fully to the Fusion Middleware stack, using Weblogic as the middle tier. In addition, the Online Patching functionality was introduced as an effective means to significantly reduce downtime.
Parallel to Oracle EBS, Oracle also developed Oracle Fusion Applications, which are a fully functional ERP system built on open standards and the Fusion technology stack to give clients the best of Oracle EBS, PeopleSoft, JDEdwards, and Siebel, while also being ready for service oriented architectures.
With Premier Support no longer available for those EBS instances below 12.2, clients operating on 11i or releases prior to 12.2 only have Sustaining Support or they purchased Market Driven Support to get a limited form of support for at least the years 2022 and 2023.
Oracle R11 to R12.2 Upgrade Steps
You can upgrade directly to Oracle EBS 12.2 from 11i, 12.0, and 12.1. At a high level, the upgrade requires the following steps:
Plan and prepare for the upgrade. It's recommended that your system is upgraded to database version 19c which is the long-term release of the Oracle Database.
Apply the latest performance patches. Upgrade the database and be on the minimum baseline of patches as recommended by Oracle.
Lay down the file system. Release 12.2 has the latest technology and file system, which means you need to lay down the file system using the latest startCD.
Perform the upgrade. From 11i, you will first need to upgrade to 12.2.0 and then move to the latest version of Oracle EBS, which as of now, it's R12.2.11.
Apply post-upgrade patches and enable Online Patching.
Deploy customizations and integrations.
Perform post-upgrade configurations.
Here are the supported Oracle R11 to R12.2 upgrade paths, including releases that require an interim upgrade step. Upgrades from 11.0 or 11i to release 12.2 must be from 11.5.10.2 at the code level, otherwise, you must first patch or upgrade to 11.5.10.2 and then upgrade to 12.2.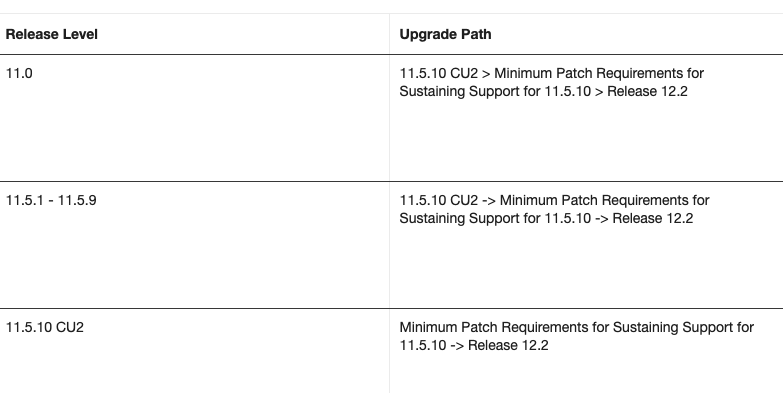 In short, making the Oracle R11 to R12 upgrade brings an array of benefits that not only justify your decision to upgrade and modernize your software, but also saves you money by cutting your Market Driven Support for the next few months without truly benefiting from all the investments Oracle is making in EBS.
To learn more about how you can upgrade to 12.2 cost efficiently and quickly, versus paying for Market Driven Support, please watch our webinar on-demand where we'll share the proven strategies and cost analysis of this important move. Also, we'll share how the upgrade to Oracle EBS 12.2 can set you up for success in your cloud journey.