Over time, Oracle E-Business Suite (EBS) has delivered a series of improvements and enhancements that put it front and center as one of Oracle's flagship products. So is the case that Oracle has made EBS a part of their Apps Unlimited, the tech giant's commitment to continuous innovation while also providing a commitment to offer Oracle Premier Support through at least 2033.
Thus, a detailed Oracle EBS 12.2 upgrade project plan is necessary. Oracle EBS has grown exponentially, delivering new and improved capabilities in terms of functionality, scalability, usability, and reduced cost of ownership, especially with the dramatic leap it made with release 12.2.
At the end of December 2021, Oracle EBS clients who were below release 12.2 lost Premier Support, which immediately terminated the continuous delivery of updates, fixes, and security patches.
To avoid being desupported, many clients opted for paying the hefty fee of Market Driven Support, while others decided to remain unsupported.
We're on a mission to help clients not only understand the many benefits of working on a supported EBS version that is fully optimized, compliant, and secure, but also to take action with proven expert strategies that can get the upgrade done typically under 20 weeks!

Based on the current version of your EBS, there are certain paths you can take to maximize how much time is left before losing Premier Support.
First, let's summarize the main reasons of why you should consider upgrading now to EBS R12.2:
Access to new functionality and software applications that can help your business be competitive and well-positioned to meet the demands of the increasingly fast-changing business environment by leveraging the latest technology.
With rigorous regulatory compliance requirements that must be met nowadays, working on an optimized and fully supported EBS version helps your business facilitate compliance at a lower cost by retiring outdated customizations and deploying standard processes across your business.
Take advantage of the latest performance and usability enhancements, enabling your business to increase the efficiency and utilization of its mission-critical applications.
Remain eligible for the highest levels of product support.
Remain eligible for tax and regulatory updates for your applications.
When considering any upgrade, especially one as important as the one to release 12.2, it's important to take many factors into account. From support timeframes, functional capabilities, technical infrastructure, underlying business needs, to functional consulting, CEMLI Remediation, and the database upgrade…well, it's safe to say that an upgrade project leaves organizations with their hands full. For this reason, it's important to have a carefully defined EBS 12.2 upgrade project plan and strategy that oversees every aspect of the upgrade.
Upgrade Process
Six Phases for Standard Upgrade Project
Upgrade evaluation and the development of a comprehensive business case.
Oracle EBS 12.2 upgrade project plan
Technical upgrade
Functional testing
End-user learning and adoption
Cutover to production
This image is a simplified overview of the standard upgrade process: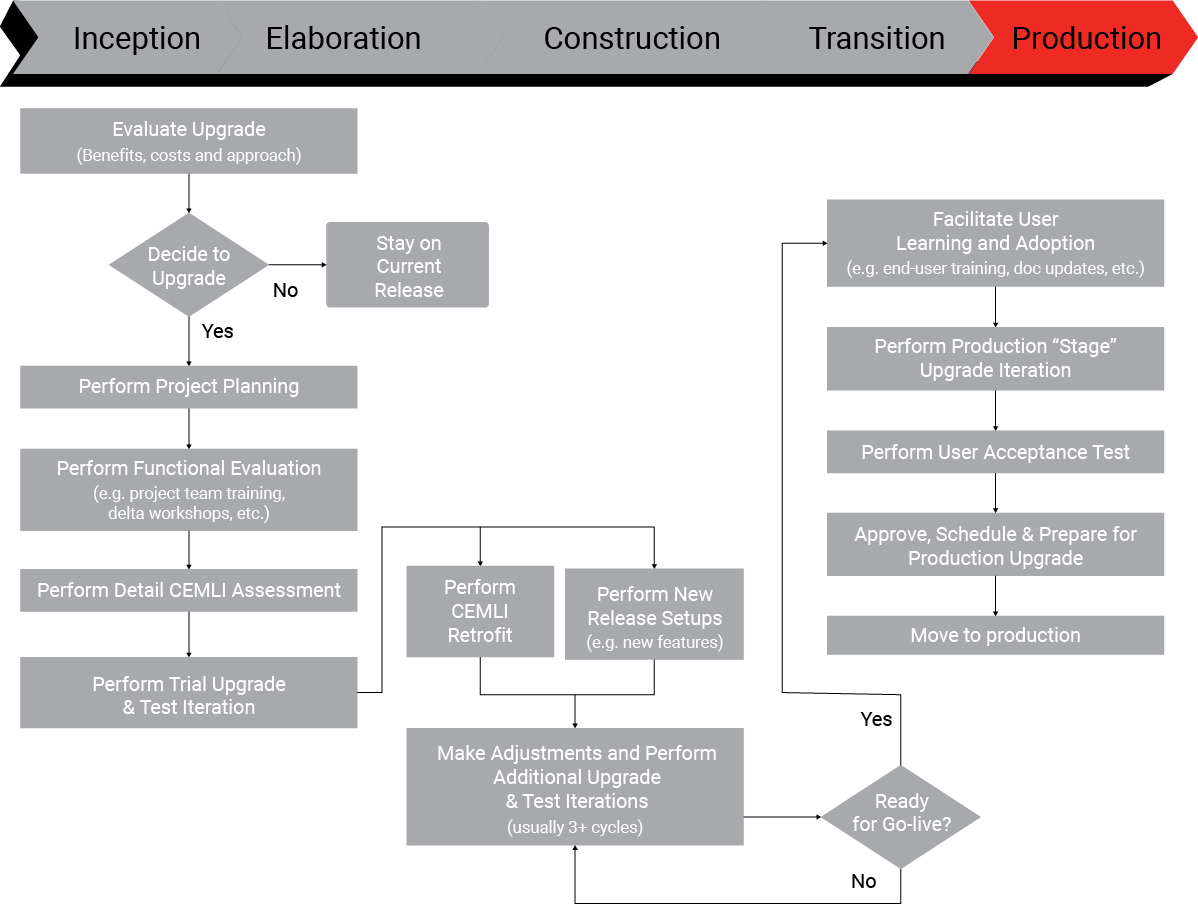 Upgrade Criteria
With several areas to consider when developing your business case to upgrade Oracle EBS to 12.2, it's important that you look at application functionality, technological enhancements, operational considerations, and support availability as the foundation for the upgrade.
1. Application Functionality
By performing a critical assessment of the new capabilities and enhancements to current features in the new release, your organization will yield a greater understanding of how essential these new features are and the value to be gained by making the investment of time, resources, and effort. From crucial advantages, increased business value, lower operational costs by retiring outdated customizations, the upgrade to 12.2 will help you meet the modern needs and demands of your business.
2. Technological Enhancements
Looking at the infrastructure requirements, like client architecture, application server, web services, and database options, you need to consider what's changed and what will change in terms of support. Traditionally, Oracle EBS offers multiple technical infrastructure choices, and this flexibility is still available in release 12.2.
3. Operational Considerations
Improving the return on investment for your business is key. The best way to achieve this is by having technology help you reduce the resources required to operate and maintain your enterprise solutions. Oracle EBS release 12.2 takes operational benefits to the max and delivers improvements that will further reduce implementation costs, enhance usability, and increase supportability.
4. Support Availability
Pursuing an upgrade is a great way to ensure continued access to Oracle's robust technical support that EBS benefits from. As part of the Applications Unlimited commitment, Oracle provides continued enhancements to the current Oracle applications. Continued support ensures client's EBS investment in technology platforms, as well as certified infrastructure products. As of now, EBS clients will lose Premier Support if they do not upgrade EBS to release 12.2 by the end of December 2021.

Steps in Oracle EBS 12.2 Upgrade Project Plan
1. Define your Upgrade Path
It's all about time now that we are more than halfway through 2021. As stated earlier, EBS clients on versions below 12.2 will enter into Sustaining Support at the beginning of January 2022, making it more urgent than ever before to upgrade before time runs out and Premier Support is lost.
When talking about time, you need to consider all the factors we've outlined in this post so you can crystallize the EBS 12.2 upgrade project plan for the amount of time needed to upgrade and ensure each of these considerations is accounted for to ensure you have the full support and coverage for your solution.
2. Leverage Expert Resources to Upgrade Successfully
An EBS 12.2 upgrade project plan and project management are crucial to the success of the EBS upgrade to 12.2. As we've reiterated throughout this post, there are a lot of factors, aspects, and constraints to consider so it's important that you partner with expert consultants who can help you employ proven strategies to upgrade as quickly as possible so you avoid being desupported before January 2022.
Consultants have unique knowledge and resources that, when paired with your unique upgrade needs, can help you strategize to balance out your cost, risks, and knowledge requirements so you reach the goal of upgrading your EBS to 12.2.
A typical upgrade team includes:
Business owner of the application
Application data owner
Project manager
Functional manager
Oracle EBS admins
Database admin
Change management owner
Testers
Technical upgrade specialists
Functional consultants
3. Leverage Oracle Resources
Oracle offers many links to information and useful guidance when it comes to Oracle EBS. From Customer Technical Forums, the EBS Technology Blog, to Documentation Resources, there's a wealth of information to get you started.
As of now, the best and most recommended path is to upgrade to 12.2 as soon as possible and before July 1, 2024 arrives so you can stay on Premier Support and Error Correction Support, and with them, access to new features, updates, fixes, and security patches.
4. Evaluate Customizations and Business Processes
Preparing customizations and defining which new business processes you want to take with you to your upgraded version of EBS is a critical step that needs to be carefully planned out. Customizations in 12.1, when compared to customizations in 12.2, are significantly different and require different levels of the EBS 12.2 upgrade project plan. Online-patch customizations are available in EBS 12.2 but there are certain development standards and procedures you need to comply with.
In a nutshell, customizations are extensions or changes in business flows that each customer implements to the functional products of EBS.
5. Inventory your System
All your EBS elements need to be inventoried, copied, and stored for future use. It's important that you compose and complete a thorough compilation of every EBS element you want moved during the upgrade. Here are some key considerations to include as part of your inventory:
Customizations, extensions, and modifications
Localizations
Interfaces, APIs, and integrations
Third-party products
Hardware
Software releases and patches, including operating system, database, and EBS applications
6. Archive and Purge
Storage cleanup is an important best practice when talking about the EBS upgrade to 12.2. By effectively achieving it through Archive and Purge, you can delete obsolete data to maximize the utilization of resources and minimize the time to run maintenance activities.
Also, to optimize the efficiency of your EBS system, you can defragment and reorganize your database.
7. Define the Test Cycles
Based on the complexity of your upgrade project, you need to define the number of testing cycles that will ensure your system is successfully upgraded and operational.
Oracle states that up to 4 or 5 testing cycles will be needed from a functional standpoint, but these will of course depend on your EBS upgrade project plan's unique requirements.
Conclusion
Download our latest infographic, "Quarterly EBS Upgrade Recommendations May 2021" and check out the latest Oracle recommendations for upgrading to EBS 12.2. These quarterly recommendations are based on the latest product strategies, support timelines, and certified releases.