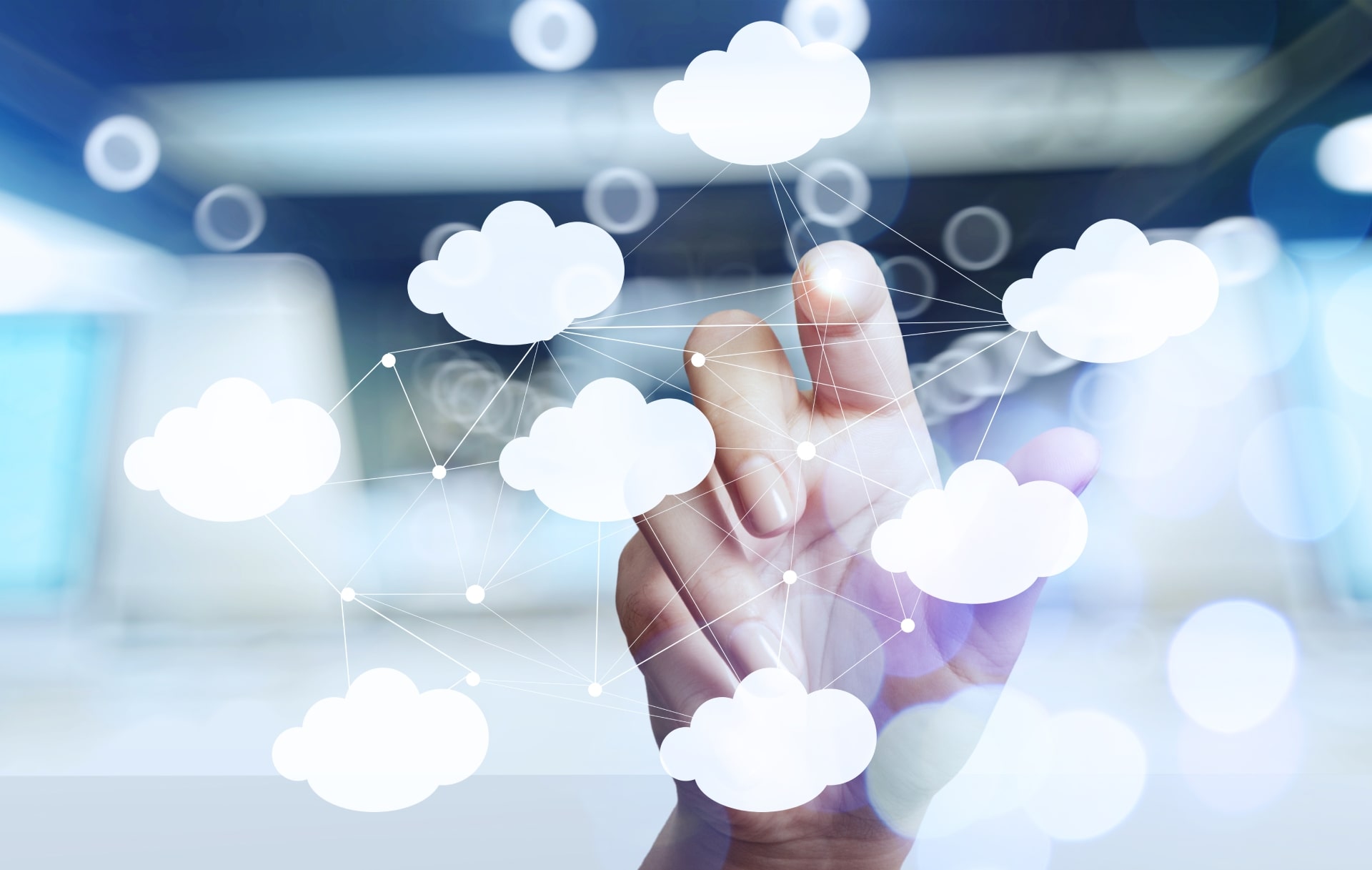 Not all Oracle products are deployable on all cloud platforms, and their capabilities may limit migration initiatives. IT Decision Makers should evaluate the viability, benefits and drawbacks of migrating Oracle products on them.
Along with this, not all workloads or clouds are equal, and therefore matching the characteristics of the workloads to the cloud can be challenging for organizations. Movement of workloads from an on-premises environment to a cloud computing environment is now beginning to address different requirements that more-complex applications exhibit. Addressing dynamic requirements of mission-critical, HPC custom application, Cloud-native applications needs to be critically assessed.
Only Oracle Cloud Infrastructure (OCI) and the Oracle Cloud Authorized providers, Microsoft Azure and Amazon Web Services (AWS) are enabled to offer IaaS and limited PaaS services to run Oracle workloads under official Oracle support.
Best Oracle Cloud Workloads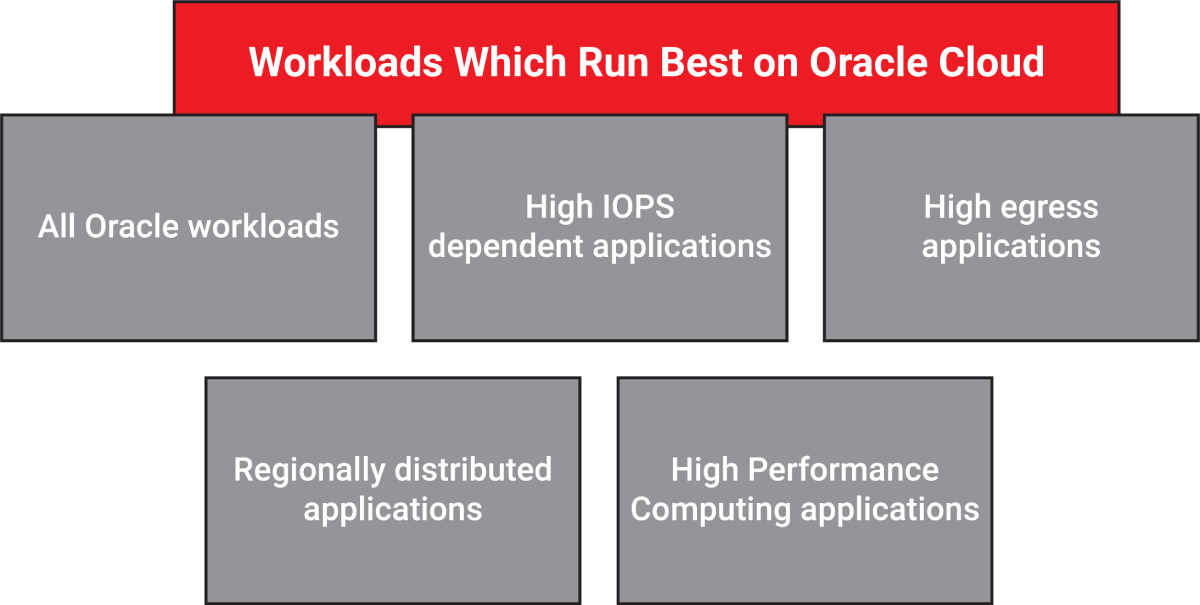 1. All Oracle Workloads
E-Business Suite, JD Edwards, PeopleSoft, Siebel, Hyperion, and others are easily deployable and can provide better price performance efficiency, than other third-party cloud providers. Oracle runs best on Oracle and the cloud infrastructure has been designed keeping the most critical environments in mind. Running enterprise resource planning (ERP), customer relationship management (CRM), and human capital management (HCM), to the cloud is currently the key challenge for most CIOs, which Oracle has solved with OCI.

2. High IOPS Dependent Applications on Oracle Cloud
With the movement to "cloudify" mission critical, High IOPS workloads, organizations are evaluating cloud suppliers on more-exacting assessments of capabilities and credentials to assess if they're truly worth the effort of workload migration. Oracle has built OCI to cater for these mission critical workloads by offering bare-metal servers so organizations can "lift and shift" large complex legacy workloads to OCI. Oracle Exadata Cloud Service, Database RAC Best cloud platform for running Oracle Database Bare Metal Compute Dedicated bare metal servers provide maximum performance, isolation, & control.
IT Convergence has been helping our customers assess the most accurate, trustworthy, and actionable cloud optimization recommendations, allowing you to spend less time optimizing your cloud continuously, which has become an impossible mission and instead empower you to focus on business-critical initiatives and innovation.
3. High Egress Applications
On cloud, data egress occurs whenever your applications write data out to your network or whenever you repatriate data back to your on-premises environment. Oracle Cloud infrastructure offers low networking prices that enable customers to move significant quantities of data for less.
Inbound data transfer is free, and Oracle offers a high threshold for free outbound data transfer—the first 10TB free for each regional zone or product SKU. After that, outbound data transfer rates are based on geography. Rate differences across geographies differ due to variable carrier rates. Several other Oracle services are priced standardized across geographies which can help better cost prediction and management.
4. Regionally Distributed Applications
Oracle is regularly adding new regions, which can help your multi-region application architecture making applications more resilient and improves end-user experiences by keeping latencies low for a distributed user base. Get greater fault tolerance in multi-region application architecture. Low latency for geographically dispersed users, Application architecture flexibility and also comply with data privacy laws & regulations.
5. High Performance Computing Applications
HPC on OCI rivals the performance of on-premises solutions with the elasticity and consumption-based costs of the cloud, offering on-demand potential to scale tens of thousands of cores simultaneously. With HPC on OCI, you get access to high-frequency processors, fast and dense local storage, high throughput ultra-low latency RDMA cluster network, and the tools to automate and run jobs seamlessly.
Oracle offers competitive price/performance compared to on-premises options. with additional high-performance computing benefits. Additionally, Oracle includes next-generation machine-learning tools to drive smarter simulations and empower intelligent decision making.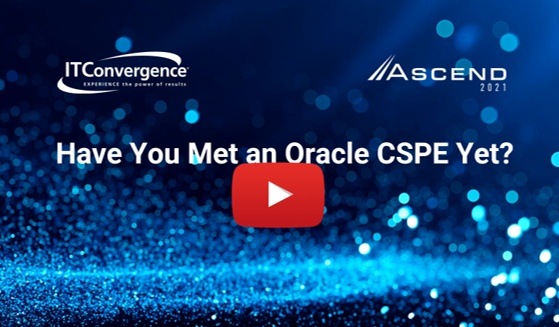 Ease your cloud migration for critical applications
As organizations move to the cloud, they migrate mission-critical applications and custom applications that may be cloud-native. Oracle Cloud Infrastructure provides a high level of security, performance, and competitive cloud vendor economics to support varied applications. Furthermore, OCI enables its customers to be future ready with its offerings for migration and day-two operations.
Gartner recommends engaging certified cloud partners early on in your cloud planning process, to ensure that loopholes are identified early and plugged in before it turns out to be disaster.
We now have Oracle's latest cloud certification – CSPE, & consulting with our Experts can help you make faster decisions and define the roadmap for your digital transformation initiatives. To get clear cloud cost visibility, Get your Cloud assessment Now!