Oracle Premier Support provides complete maintenance and software updates for your Application Unlimited products through at least 2033, based on the continuous innovation releases in effect at the time. Oracle E-Business Suite on release 12.2 is part of the Application Unlimited pledge under the Continuous Innovation program, meaning no further major release upgrade is needed once you are in that release.
As such, Oracle will continue to offer Oracle Premier Support for Applications Unlimited products' continuous innovation releases for on-premise applications through at least 2033, and Oracle is committed to yearly evaluate whether or not to extend the provision on yearly increments.
The Lifetime Support Policy of Oracle gives you control over your Oracle 12.2 upgrade path. When you're on the continuous innovation release of Applications Unlimited's products, just like Oracle E-Business Suite software, you can add features without paying for an upgrade.
Planning the Oracle 12.2 Upgrade Path
Apply the latest Applications Technology Family Pack
Most UI features are inherited automatically by the EBS applications, so if you are on 12.2.3 or higher you only need to apply the Applications Technology Family Pack
Stay Current with OA Framework Updates
Bundle patches are available across all releases of R12.2
Review customizations for impact
New UI features in Release 12.2.4 and 12.2.5 may require review and upgrade of customizations and extensions:

Oracle Alta UI (only supported skin in 12.2.5 or later)
Simplified Global Header
HTML 5 standards uptake
Dialog pages as modal dialogs

Oracle E-Business Suite release 12.2 upgrade considerations for OA framework-based applications and Oracle CRM technology foundation
UI features and their potential upgrade considerations
How you can plan for upgrading such customizations
Oracle E-Business Suite 12.2 Architecture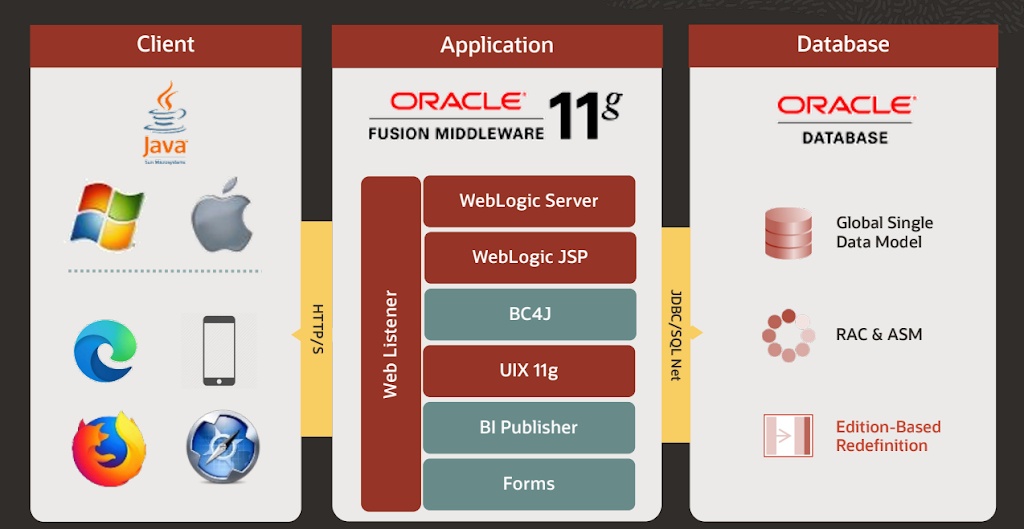 Oracle E-Business Suite Architecture is an architecture for distributed computing with many tiers that supports Oracle E-Business Suite products. Various servers or services are dispersed over three levels or tiers in this arrangement.
A server (or servers) is a procedure or group of processes that operates on a single computer and offers a specific function. Web services, for instance, process HTTP requests, whereas Forms services process requests for Oracle Forms-related operations.
A tier is a logical grouping of services that may be distributed across multiple physical machines. An Oracle E-Business Suite installation's three-tier architecture consists of the database tier, which supports and manages the Oracle database; the application tier, which supports and manages the various Oracle E-Business Suite components and is sometimes referred to as the middle tier; and the client (desktop) tier, which provides the user interface via an add-on component to a standard web browser.
A machine may be referred to as a node, especially in the context of a group of computers that collaborate closely in a cluster. Each tier may consist of one or more nodes, and each node may support many tiers. For instance, the database can reside on the same node as one or more components of the application tier. Notably, a node is also a software concept that refers to a logical collection of servers.
Centralizing the Oracle E-Business Suite software on the application layer reduces the need to install and maintain application software on each client PC and enables Oracle E-Business Suite to scale well in response to an increase in demand. Extending this concept, one of the primary advantages of using the Shared Application Tier File System architecture (formerly Shared APPL TOP) is the requirement to maintain only a single copy of the required Oracle E-Business Suite code, as opposed to a copy for each application tier computer.
There is an increase in the use of Oracle Real Application Clusters (Oracle RAC) on the database layer, where numerous nodes support a single database instance to provide improved availability and scalability.

Online Patching
Online Patching dramatically reduces downtime for patching, leveraging Oracle Database Edition-based Redefinition features to support Online Patching. Patches can be applied while the production system is fully operational and running. Only a short downtime is needed to complete a patching process, meaning the amount of downtime will be consistent.

We can help you
Oracle E-Business Suite supports mission-critical operations that directly impact the success of your business. You should strategize to be future-ready and protect your Oracle EBS investment by keeping it secured and up-to-date. Oracle EBS instances needed to be on versions R12.2 or higher to avoid losing Premier Support by the end of last year, and now that the deadline has been met, many EBS clients that failed to upgrade will no longer receive critical fixes, updates, and important security patches.
IT Convergence has developed a number of proven approaches to reduce Oracle 12.2 upgrade path costs, minimize risks, and ensure knowledge transfer. For more information, please download the resource-sharing models flyer.