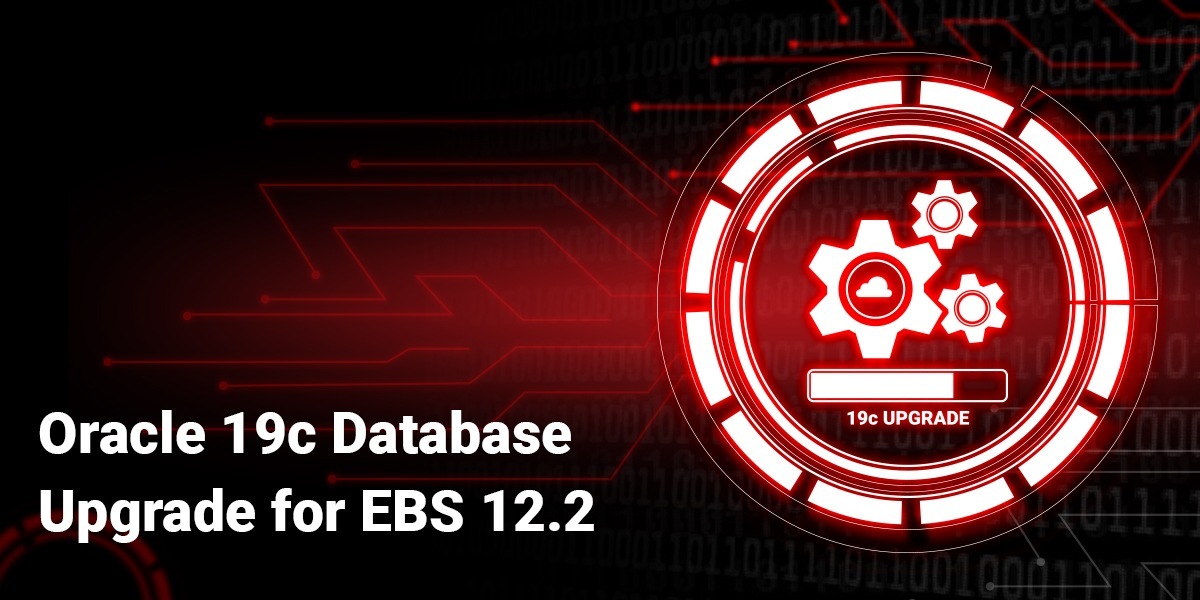 As you know, Oracle offers Long Term and Innovation releases for its databases. For over two years, Oracle E-Business Suite has been certified with Oracle Database 19c, and with the upcoming termination of Premier Support by the end of this year, it's important that you consider key aspects of upgrading your EBS like the database upgrade to 19c.
Oracle Database 19c is the current Long Term Release that offers coverage through April 2024 with Premier Support and through April 2027 with Extended Support. To maintain business continuity, we encourage you to upgrade to Oracle Database 19c as it offers the highest level of stability and the longest window for error connection.
In preparation for the Oracle EBS upgrade to R12.2.x, the database needs to be prepped for version 19c.
Preparing the Database for the 19c Upgrade
Back up the Oracle EBS Database and Customizations
In preparation for your Oracle Database upgrade to 19c, it's required that you back up your current database. Backing up can help you restore the database if you run into any issues while upgrading to 19c, so it's necessary that you create a cold backup, even if it's as a "just in case" measure. It's also important that you back up any customizations you have in your Oracle EBS instance since customizations aren't saved during the upgrade process.
Migrate Objects to the Tablespace Model
Recommended, yet not mandatory, you should consider migrating objects to the new tablespace model when upgrading to Oracle Database 19c. Oracle EBS R12.x environments contain the new tablespace model based on database object type instead of product affiliation. It's recommended that you use the Tablespace Migration Utility to migrate objects. Please keep in mind that this utility will not be available once you enable Online Patching.
Apply Oracle EBS 12.2 Database Patches
Applicable to all 12.0 and 12.1 releases, you need to migrate or upgrade your database to a release supported with Oracle EBS R12.2.x, and as we've reinstated throughout this blog post, we recommend that you upgrade to Oracle Database 19c.
When upgrading to R12.2.x, your database needs to be at the minimum version 11.2.0.4. If you haven't upgraded to that version, or 12.1.0.2 or 19c, you can upgrade your database prior to the EBS upgrade downtime, ensuring you will receive updates for security, performance, and stability before making the full transition to R12.2.x
To ensure the needed database patches are applied before upgrading to 19c, check for missing patches in the Codelevel Checker and apply the ones identified as missing. Run the Codelevel Checker again to ensure all patches are applied. Of course, if you're using Oracle Cloud Infrastructure Database Services, follow the instructions that match the deployment and ensure all patches are applied.
These are the high-level tasks that will prepare your database for the Applications upgrade to Oracle EBS 12.2, but with other conditional tasks and requirements, it's important that you have expert resources at your side to ensure a successful upgrade.
Early this year, Oracle announced the release of Oracle Database 21c as a new Innovation Release, which serves as a preview of what will potentially be included in an upcoming Long Term Release. For a handy, visual depiction of the new innovations in Oracle Database 21c, download our latest infographic.

In December of this year, Oracle will pull the plug on Premier Support, leaving instances below R12.2.x without new patches, fixes, or security updates to protect your EBS investment.
There are a number of critical aspects you need to consider when upgrading your EBS to R12.2.x, like CEMLI Remediation, Data Purge and Archive, and preparing your database to upgrade to version 19c.
We have multiple upgrade delivery models to help you get your upgrade done in time, like our resource-sharing models where we split portions of the upgrade tasks with your internal team, which can help you reduce costs, minimize risks, and help to ensure knowledge transfer.
With only 9 months left, our goal is for you to upgrade on time before you expose your EBS investment to unwanted costs and security vulnerabilities.