Key considerations
Monitor health and capacity of E-Business Suite resources in the cloud and on-premises
Optimize E-Business Suite performance in real time
Detect and fix anomalies before they can impact your business
Identify bottlenecks and underutilized resources
Application integration technologies
Observability and management is the evolution of monitoring into a process that offers insight into digital business applications, speeds innovation and enhances customer experience. IT leaders should use observability to extend current monitoring capabilities, processes and culture to deliver these benefits.
Oracle provides visibility and machine learning-driven actionable insights to ease management across all layers of the stack deployed on any technology, anywhere. A top priority today is increasing automation to drive scale and predictable results. Oracle's integrated functionality and automation for DevOps monitoring and IT operations management makes it 50% easier.
You need to be able to monitor the health and capacity of cloud infrastructure resources in order to optimize performance at all times and in real time. Objectives include ensuring availability and performance in the cloud, including the ability to detect and fix anomalies before they can impact your business. Additionally, you may require the visibility to identify bottlenecks and under-utilized resources for optimize accordingly. This is achieved with the help of Observability tools.
Gartner also recommends identifying and engaging with certified Oracle Cloud partners. These cloud certified partners called MSE partners, have the knowledge depth and breadth to implement this solution, but go beyond to help you generate insights on your EBS environment to maximize your investment.
Observability and Management platform Services explained – Click here
Provisioning Observability and Management for Oracle Applications
Depending on the customers' scenario, there are multiple options (OCI O&M, OMC, EM, and OAM) to provide a comprehensive solution for their EBS monitoring and management needs.
It is highly advisable to engage Oracle Cloud certified MSE partner, who can help you not only enable but also advise you on generating meaningful insights to help you make strategic decisions.
Point to the large box and state that: Oracle Cloud Infrastructure (OCI) itself provides a comprehensive console with dashboards to monitor cloud resources such as compute instances, block volumes, virtual NICs, load balancers, and object storage buckets natively.
For example, you can leverage Monitoring to track CPU utilization, memory utilization and integrate with compute autoscaling. You can also integrate with open-source visualization tools, run your own metrics queries, and have your applications emit their own custom metrics, enabling you to visualize, monitor and alarm on all critical time-series data from one place in the console. These capabilities are for general monitoring, but they can also be used for monitoring your EBS instances running on OCI.
We are not stopping there. We have several specialized tools that provide deep, out-of-the-box monitoring capabilities for EBS environments including instances deployed on-premises.
This strategy dovetails with Oracle's new Cloud Observability and Management Platform, a set of new OCI services that will provide comprehensive monitoring and management for EBS from a unified dashboard. If you are interested to know more contact one of our certified experts for a discussion around this.

Let's look at what Oracle offers today for EBS across the board.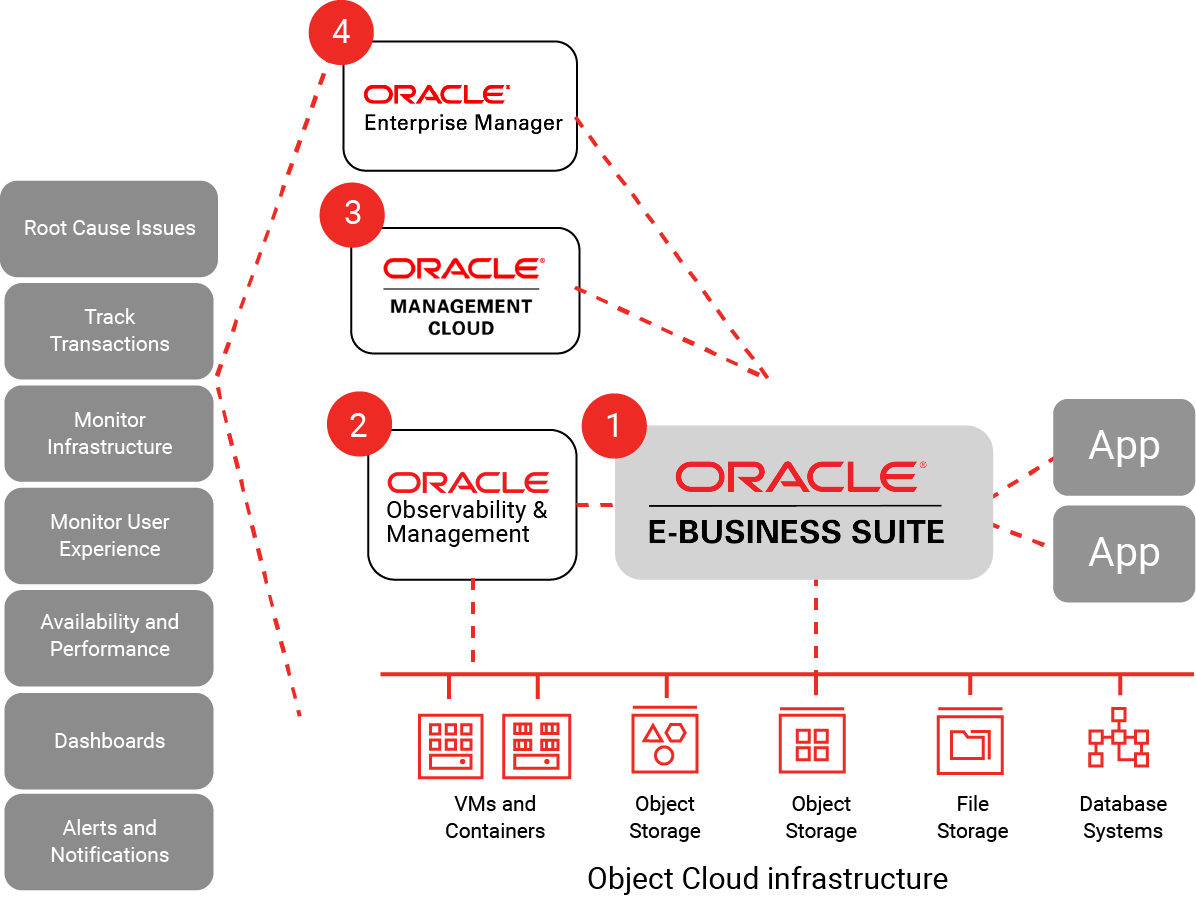 Oracle Applications Manager (1) provides built-in, self-monitoring of the compute instance on which E-Business Suite is hosted.
EBS' native monitoring with Oracle Applications Manager (OAM). Every EBS instance comes with OAM. Since it's built-in, it can be used to self-monitor the instance on which it's hosted. An EBS instance that runs on OCI naturally benefits from OAM and you can use it to monitor that instance.
When it comes to multiple instances, Oracle provides a few options today:
Oracle Observability and Management (2)
provides OCI native ML-based monitoring and analytics for all layers of EBS technologies
Oracle Cloud Observability and Management Platform, was launched in October 2020 and it now supports key services that enable monitoring and management for any application deployed on OCI and across OCI compartments. It provides complete out-of-the-box monitoring for EBS with dedicated dashboards including automatic discovery of EBS components, automatic log collection and analytics of all EBS log sources and troubleshooting capabilities from user experience and browser activity all the way to the logs and database infrastructure.
Oracle Management Cloud (3)
provides deep monitoring of infrastructure, application performance and end-user activity. Ideal for existing users of OMC
Oracle Management Cloud is a first-generation observability solution.
Over the past few years it has built out deep monitoring capabilities for EBS for cloud and on-prem deployments. If you are using OMC today, you should rest assured that these capabilities will continue to be supported. OMC performs monitoring using agents across various tiers from infrastructure to application performance, security, and end-user activity. And it integrates with Oracle Enterprise Manager for Oracle Database performance and capacity analytics. Out-of-the-box metrics and dashboards for EBS are provided to automatically discover all EBS components and monitor them across cloud and on-premises instances.
Oracle Enterprise Manager (4)
with Application Management Pack plugin to monitor multiple E-Business Suite instances and Oracle Database capacity and performance.
Many customers also use Oracle Enterprise Manager. Enterprise Manager provides deep monitoring capabilities using the Application Management Suite for EBS which covers a wide variety of areas, including End-User Monitoring, Service Level Management, Performance Diagnostics and Analysis, Configuration/Compliance Management, Change Management, Functional/Load testing, Data Masking/Subsetting, and provisioning. Enterprise Manager is typically deployed on-premises but for those who are interested in deploying Enterprise Manager on OCI, we now support HA-enabled images of Enterprise Manager that you can run on OCI using our OCI Marketplace platform.
If you want to monitor and manage multiple EBS instances as well as Oracle Database performance and capacity monitoring, use Oracle Enterprise Manager + Application Mgmt Pack (AMP) plugin (addl license required). It also has the additional capability to monitor on-prem and OCI-hosted EBS instances from a single browser window.
In summary, depending on the customers' scenario, there are multiple options (OCI O&M, OMC, EM, and OAM) to provide a comprehensive solution for their EBS monitoring and management needs.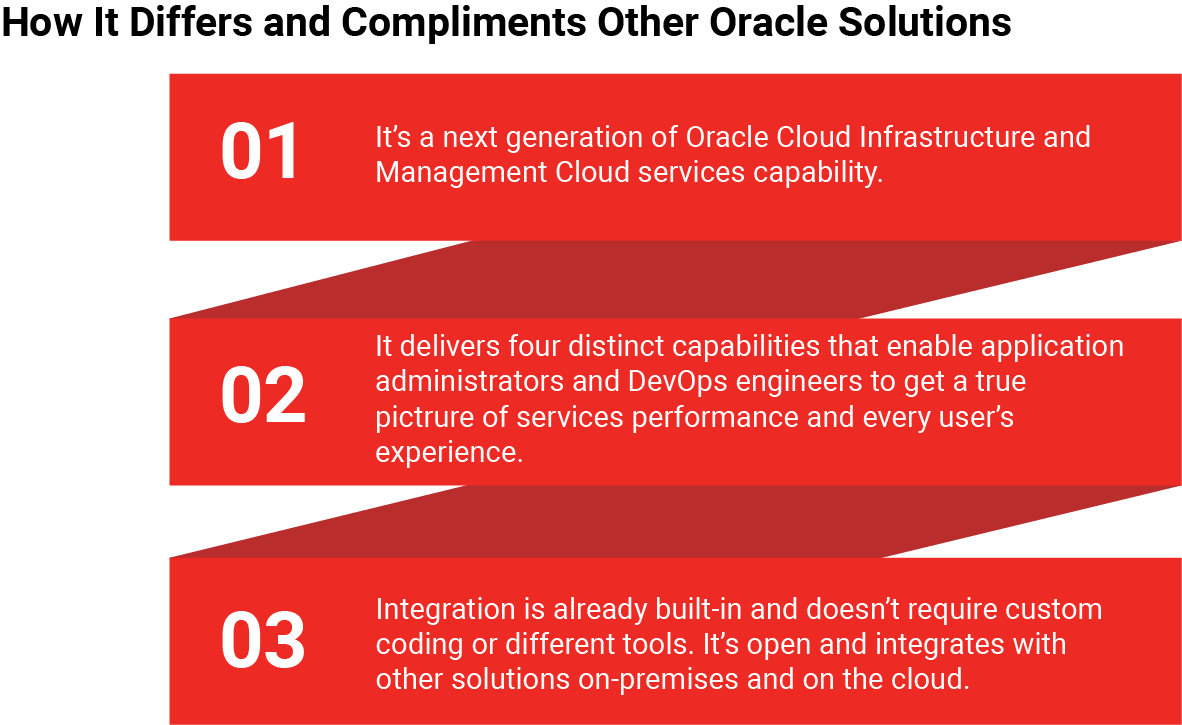 Below are the other considerations to learn before proceeding with your EBS to OCI Migration.
Fundamentals of a Successful EBS Migration
Applying Best practices and Reference Architectures Across OCI Solutions
Conclusion
Monitoring, Observability and Management are essential elements for your Oracle applications without which you will be like a Ship captain without a compass or GPS today.
To migrate onprem EBS to Cloud or Optimize and Manage EBS on any cloud, It is highly recommended to leverage certified Oracle Cloud MSE Partners to ensure you avoid any roadblocks in your cloud migration journey and avoid inflating your cloud migration costs and timelines. Contact our experts today!